1. Carolina Panthers-Andrew Luck, QB, Stanford
The Panthers make the no-brainer pick and select Luck, the best quarterback prospect in a long time. Some question his arm strength, but they are really just nitpicking. Luck is very nearly the perfect quarterback prospect, and he should be an effective starter for a long time.
2. Denver Broncos-Patrick Peterson CB, LSU
Champ Bailey isn't getting any younger, and the Broncos need help at the cornerback position. They select Peterson who is as close as it gets to a sure thing when talking about cornerbacks. With Bailey to mentor him for a year or two, Peterson should be a shutdown corner in no time.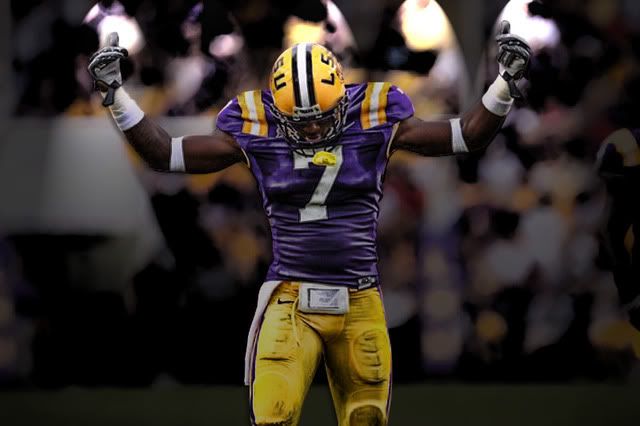 3. Buffalo Bills-Nick Fairley, DT, Auburn
The Bills need a lot of help, but unfortunately neither A.J. Green or DaQuan Bowers, the remaining top prospects, really fill positions of need for the Bills. Instead they select Fairley who can step in and be a force at the 3-4 defense end position.
4. Cincinnati Bengals-DaQuan Bowers, DE, Clemson
Defensive end is not a huge need for the Bengals, but they are not quite sure they want to give up on Carson Palmer yet. They decide to take Bowers who will be a force on their line for years to come.
5. Arizona Cardinals-Robert Quinn, DE, North Carolina
Arizona is ecstatic that Quinn falls into their lap. He provides an instant pass rush that they have been looking for and should be more than capable of playing the OLB in the 3-4 scheme.
6. Cleveland Browns-A.J. Green, WR, Georgia
A.J. Green, the best receiver prospect since at least Calvin Johnson perhaps Randy Moss, is still available for the Browns. They can't resist going and getting Green as a #1 target for Colt McCoy for years to come.
7. San Francisco 49ers-Ryan Mallet, QB, Arkansas
San Francisco considers Cam Newton here, but instead they go with the somewhat safer bet and select Mallet. San Francisco has enough weapons on offense that Mallet should be able to fit in and succeed.
8. Tennessee Titans-Prince Amukamara, CB, Nebraska
The Titans select the Prince here and hope he will grow into the lockdown corner he can be. Cortland Finnegan's play has declined somewhat lately, perhaps letting Amukamara take on Andre Johnson and Reggie Wayne will help him out a little.
9. Dallas Cowboys-Marcel Dareus, DE, Alabama
Dareus falls right into the Cowboys lap, and they can't resist taking a solid 3-4 end with pass rushing ability. Dareus should come in and start consistently for years to come.
10. Washington Redskins-Cameron Newton, QB, Auburn
Washington is the team that decides to take a risk on Cam Newton. With McNabb likely gone and Rex Grossman not being the answer, the Redskins take Newton. If nothing else, Newton will come in and give people a reason to care about the Redskins again. However, I think Newton will be the next star in the NFL.
11. Houston Texans-Stephen Paea, DT, Oregon St
Houston selects a defensive tackle that can come in and take some of the pressure of Mario Williams in the pass rush.
12. Minnesota Vikings-Blaine Gabbert, QB, Missouri
Minnesota consider Locker here, but they decide that Gabbert is the safer pick. With Adrian Peterson providing a strong running game, Gabbert should have some time to pick apart opposing defenses.
13. Detroit Lions-Allen Bailey, DE, Miami
The Lions consider Brandon Harris but decide to go with his teammate instead. They take a defensive end to make their defensive line even more of a strength.
14. St. Louis Rams-Julio Jones, WR, Alabama
The Rams get the wide receiver they were hoping for. Jones has all the physical ability in the world and with a little more work on his concentration he should be a great targer for Sam Bradford for years to come.
15. Miami Dolphins-Jake Locker, QB, Washington
The Dolphins get the last of the top tier quarterbacks and one that could end up being very good. Locker will have something to prove after an average senior year. Having Jake Long protecting his blindside and Brandon Marshall catching his passes should help.
16. Jacksonville Jaguars-Adrian Clayborn, DE, Iowa
Pass defense is a problem for the Jaguars. They will definitely be looking to improve their secondary and some point in the draft, but here they decide to improve their pass rush and help their pass defense through pressure. Clayborn will come in opposite Aaron Kampman and should provide a much improved pass rush.
17. New England Patriots (From Oakland)-Mark Ingram, RB, Alabama
New England could improve their front seven here, but instead they make a luxury pick of sorts. They take Mark Ingram greatly improve their running game. Tom Brady can carry a team, but having Ingram to take part of the load off can only help.
18. San Diego Chargers-Ryan Broyles, WR, Oklahoma
The Chargers consider boosting the pass rush, but instead select Broyles. Broyles is a stud receiver and should provide a great compliment to Malcom Floyd. With another weapon like him, Philip Rivers will find it even easier to pick apart opposing defenses.
19. New York Giants-Akeem Ayers, LB, UCLA
The Giants select Ayers here based on pure potential. They know he had a less than stellar senior year, but they know he has the ability to once again be a dominant player.
20. Tampa Bay Buccaneers-Cameron Jordan, DE, California
Tampa Bay addresses a need here and selects a defensive end that they think can home in and improve their defense. Tampa Bay is poised for success next year and Jordan can only help.
21. Seattle Seahawks*- Brandon Harris, CB, Miami
The Seahawks wanted a Quarterback here, but with all the members of the top tier gone they are not quite ready to take Christian Ponder. Instead they go with Brandon Harris. Marcus Trufant is getting old and the Hawks need someone across from Walter Thurmond.
22. Kansas City Chiefs*-Justin Houston, OLB, Georgia
The Chiefs are thrilled to see Houston fall to them. They pick up one of the top 3-4 OLB in the draft who will only improve their already stiff defense.
23. Indianapolis Colts*-Anthony Costanzo, OT, Boston College
The Colts need to protect their investment, Peyton Manning, and they need help on their offensive line. Costanzo thought to be the top tackle in the draft by some and his quick feet and smarts make him the perfect fit for the Colts.
24. Philadelphia Eagles*-Aaron Williams, CB, Texas
The Eagles offense is dynamic with Vick, McCoy, Jackson, and Maclin and their offensive line is solid. Here they add Aaron Williams to shore up the secondary that is beginning to look vulnerable for the first time in awhile.
25. Green Bay Packers*-Ryan Kerrigan, OLB, Purdue
Frank Zombo and Erik Walden have flashed potential, but it is time the Packers get a legitimate threat across from Matthews to share the pressure. Kerrigan is a hard-nosed player and he should fit in well with the Packers.
26. New Orleans Saints*-Aldon Smith, DE, Missouri
The Saints pick up Smith to help their pass rush. Will Smith isn't getting any younger, and Aldon should come in and be a force.
27. Chicago Bears*-Stefen Wisniewski, C, Penn St.
The Bears are happy to see Wisniewski fall to them. He is a heady player that could play guard until Kreutz is ready to retire.
28. New York Jets*- J.J. Watt, DE, Wisconsin
Shaun Ellis appears to be leaving and Watt is a player that could step in day one and be a pro bowl 3-4 DE. He has the size and ability that the Jets look for as they continue to improve their defense.
29. Baltimore Ravens*-Justin Blackmon, WR, Oklahoma St.
Shocked that Blackmon has fallen this far, the Ravens snatch him up. Receiver isn't a huge need for the Ravens, but the idea of pairing Blackmon with Boldin is too good to pass up.
30. Pittsburgh Steelers*-Janoris Jenkins, CB, Florida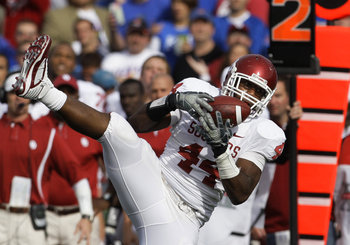 The Steelers consider taking Sherrod here and boosting the offensive line, but they believe Jenkins can become the #1 corner they have been looking for.
31. Atlanta Falcons*-Derek Sherrod, OT, Mississippi St.
The Falcons are happy to take Sherrod and will insert him wherever they need him on the offensive line, most likely at left tackle where Sam Baker seems to be failing.
32. New England Patriots*- Jeremy Beal, OLB, Oklahoma
After making the luxury pick of Ingram earlier in the round, the Patriots get back to business selecting stars for years to come. Beal should come in and provide a strong pass rushing presses the Patriots.