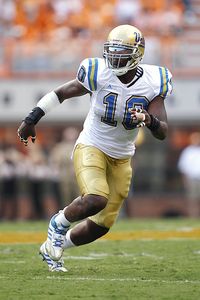 Courtesy of Google Images
Rated as the number one linebacking prospect in my
NFL Draft Rankings
, I obviously think very highly of Akeem Ayers. He is a player who just oozes athleticism. Ayers is built like a stud, standing 6'4 and weighing in around 255 pounds, he has excellent size for a linebacker. He possesses good but not great speed, clocking in between 4.55 and 4.7. However, he has excellent natural athletic ability and with his great size, slightly above average speed is good enough. Ayers is naturally suited for the outside linebacker position, but he could also play middle linebacker and even put his hand on the ground in some situations and rush the passer. A junior this year, Ayers is came into the season fresh off of a superb sophomore season in which he recorded 69 tackles, 3 sacks, and two interceptions. He also scored two touchdowns. In his junior season he is on a similar pace.
Courtesy of Google Images
Ayers is a special player, his combination of size and athletic ability allow him to play many different positions. He has the potential to succeed in the 4-3 (SAM or MIKE) or the 3-4 as an outside rush backer. He has the frame to add a few more pounds if need be, and if he can maintain his speed he will be a terror off the edge. Ayers has a nose for the football and uses his size to physically dominate opponents. He sometimes struggles to get off blocks and this could cause concerns for some teams looking to draft him early. If Ayers can run in the 4.5 range at the combine he will most likely be a top 15 selection, but if he clocks in more in the 4.6 to 4.7 range, he may fall to the bottom of the first round. However, players with his size and athleticism are not passed on easily.
Back to Blog